Understanding the Differences Between TPO and PVC Roofing Systems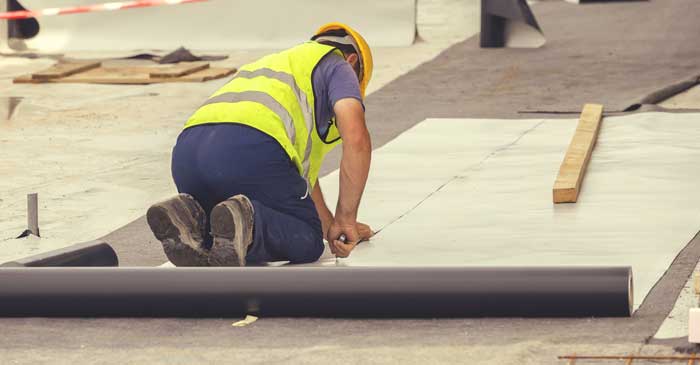 Without the proper understanding of the advantages and disadvantages of PVC and TPO roofing systems, one may invest their money in the wrong roofing system, which could lead them to have more costly expenses in the future. Even though the two mentioned roofing systems share the same membrane, there are still differences that you should know.
This article will tackle the differences between TPO and PVC roofing systems and other information you need to know about it.
The Difference Between the Composition of TPO and PVC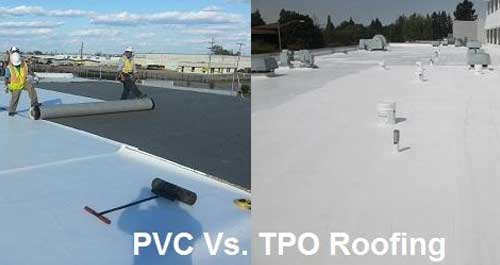 If you have seen the installation of TPO or PVC roofing, most of you will think that the materials used are the same. Even though they look quite identical, the two roofing systems have a unique composition.
PVC Roofing System – PVC stands for Polyvinyl Chloride that features a membrane made from 2 PCV plies with a polyester sheet between them. The following materials used to create PVC plies:
Biocides, which works to prevent the buildup of insects, rodents, algae, bacteria, and mold
Plasticizers, which works to improve the plies' flexibility and plasticity
Polyester or fiberglass reinforcement
Color pigments
Ultraviolet light inhibitors
PVC roofing system maintains its water-tightness because of its hot-air welded seams. This means that it can withstand a wide variety of extreme weather conditions.
TPO or Thermoplastic Polyolefin Roofing System. Manufacturing the TPO membrane needs to combine two materials, which are the ethylene-propylene and polypropylene rubber. The TPO plies hold a polyester sheet between them, like the former roofing system. To form TPO plies, the following materials are needed:
Talc
Fiberglass
Color pigments
Ultraviolet light inhibitors
Considering the materials used to produce the TPO membrane, plasticizers are not the essential materials to improve its flexibility or plasticity. If it's installed by a professional, it works in high-quality and can resist even severe conditions.
Performance Comparison Between TPO and PVC Roofing Systems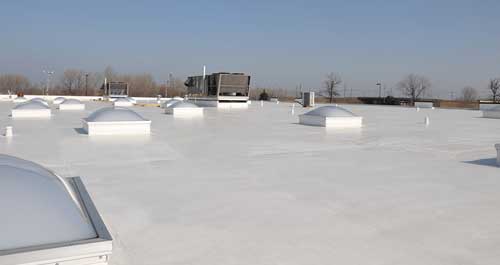 When it comes to wear and tear strengths, TPO outstands PVC. But, in terms of the overall cost, fire resistance, and chemical resistance, the PVC roofing system is listed on top. PVC is a recommended roofing system for buildings or restaurants with grease traps.
Both membranes of PVC and TPO roofing systems are excellent when it comes to their durability. Their thickness also impacts their pricing as well as their lifespan. Depending on your budget, experts recommend investing in the thickest membrane to avoid costly repair.
Pro Tip: Make sure not to depend on your budget when choosing the best roofing system. If you prefer TPO roofing systems to the PVC, make sure to ask and research reliable information about it. Despite your choice, make sure to hire a contractor with more than 20 years of experience in the industry. Also, work with a manufacturer that offers a clear warranty policy for their items.
Warranties Between TPO and PVC Roofing Systems
Before you check out your order, make sure that you know the product warranties. This is always true despite your choice. Whether you are choosing PVC or TPO, there are two types of warranties to keep in mind.
First, consider the warranty offered by the manufacturer. This type of warranty covers any defects or problems you notice on their roofing membrane in a specific period. The last one is the warranty of the roofing contractor, which includes his workmanship. When it comes to this warranty, you need to remember the items it covers as well as the actions to follow to prevent the warranty from being void.
Considering that the duration and coverage of the two warranties mentioned above will vary depending on the roofing system manufacturer as well as the contractor, this is usually a case-to-case basis.
Pro Tip: Before you agree to the warranty offered by the company and contractor, make sure to understand its coverage. Also, agree only if you're satisfied with the warranty coverage. After completing the installation process, make sure to document all the warranty descriptions and certificates you can get from the manufacturer and contractor.
Overall Differences Between PVC and TPO Roofing Systems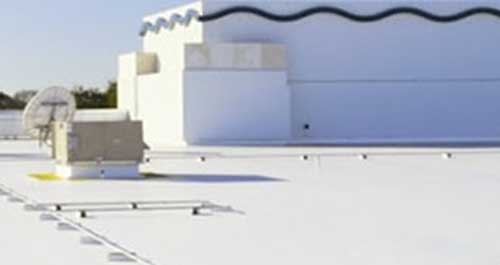 Thermoplastic Polyolefin (TPO) is a roofing system that's made from energy-efficient materials. Aside from that, it is also reflective of the sun's UV rays. In terms of installation, TPO is way easier to complete compared to PVC. So, it's recommended if you require immediate roofing. Also, this one lasts longer and is durable since it can resist mold growth.
On the other hand, in terms of Polyvinyl Chloride (PVC) is a popular roofing system among commercial business owners as it is more resistant to severe weather conditions. PVC roofing systems work better in flatter roofs and moderate climates. A plus point for it is that it does not require frequent maintenance. It is also an energy-efficient material, like a TPO roofing system.
Another notable difference between the two is their sheet flexibility. TPO has a more flexible sheet compared to PVC. You need to consider the sheet flexibility of the roofing system in terms of flash penetrations as it has something to do, especially in areas of the roof that are not watertight.
The good thing is that despite your choice, it can cut down AC bills because of the cooling effects it offers.
Conclusion
Roofing systems are popular for commercial properties, like restaurants and buildings. When it comes to roofing systems, PVC and TPO are the two popular roofing materials that need to be taken into consideration by most buyers.
To sum it up, both PVC and TPO roofing do their jobs. But, despite being similar in most cases, these two roofing systems are made from different materials. PVC is constructed from chlorine and ethylene, while TPO is constructed from polypropylene and propylene rubber. The two roofing systems look similar, but the PVC roofing system has been used since the 1960s, even until now, while the TPO roofing system started in the early 1990s.
Knowing the advantages and disadvantages of the two materials is important. This will help you to prevent impulsive buying decisions and further expenses in the future.
https://www.commercialflatroofs.ca/storage/2020/12/Understanding-the-Differences-Between-TPO-and-PVC-Roofing-Systems.jpg
365
700
kingdomrules
https://www.commercialflatroofs.ca/storage/2017/02/logo.png
kingdomrules
2020-12-12 03:41:26
2020-12-30 07:15:42
Understanding the Differences Between TPO and PVC Roofing Systems