How to Fix TPO Roofing: Step by Step Guide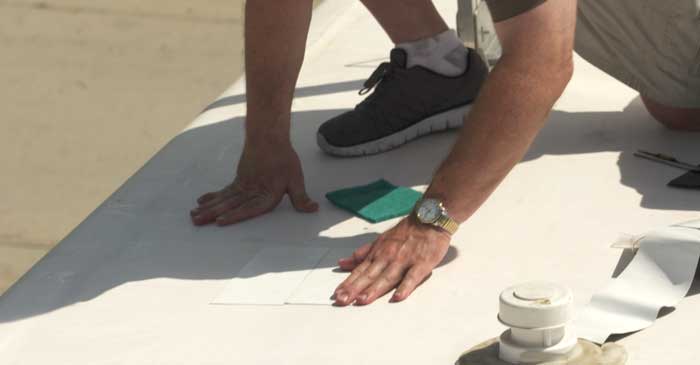 What is TPO Roofing?
A thermoplastic polyolefin or TPO is a single-ply membrane roofing system commonly used by commercial and industrial building owners. With regards to its appearance, it can be compared to plastic or rubber sheets and covered with gravel ballast, preventing sun and wind damage. It gains its popularity for its low cost and ability to stand strong against natural wear and tear process. Imagine a large chunk of money you can save with this one-of-a-kind heat insulation technology. It can withstand extreme heat temperature that makes it an instant energy-saving device. Its life expectancy ranges from 20 to 30 years. These are the reason why it became a go-to for building owners for a good roofing system. Be that as it may, you need some time in the future a "How to Fix TPO Roofing: Step by Step Guide."
Commercial and industrial building owners prefer to use this to seal their roofing system because it is well known for its durability, high resistance to tears, and punctures. On the other hand, they will not last forever, so you need to have a regular maintenance routine.
More often, we think that our roofing system is always in good shape until a major problem comes in the way. We may be tempted to ignore small leakage or puncture with the hope that it will magically go away. Unfortunately, that problem that started small can easily turn into a disaster and turn your life upside down. There are several factors that affect the deterioration phase of the TPO. It may be the weather, low-quality installation job, or natural wear and tear process of deterioration. Kick that panic attack out of your system. We will guide you on what to check for, what are the common issues, and how to get your roofing system back in shape.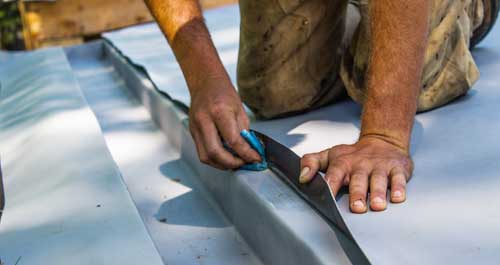 Before you lay your hands to anything, you may need a couple of combinations of any of the following tools. That will depend on the damage scale.
Automatic Walk Welder
Hot Air Hand Tool
Hand Pressure Roller
Wire Brush
Power Generator
Extension Cords
Repair tape
Sealant
Primer
How to Repair TPO?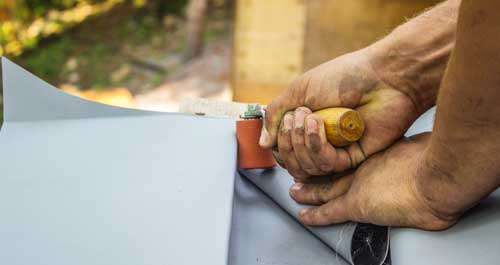 The roof is one of your building's largest foundations; thus, it must be taken care of with regular maintenance and repairs. We customarily fall for a DIY technique in fixing things. Further, we tend to look for bundles of basic ideas on the internet so we can fix it ourselves. If that is your line of thinking, you need to invest with the right tools, procedures, and or even better, seek professional guidance for better results. The wrong move, and you'll end up crying a river because of frustrations. You need to have a neat lessons and expertise to execute the job correctly. It may seem easy, but you don't want to be the cause of additional serious damage. Your main goal is to extend the life of your dearly home, improve the durability, and to reduce the health risk/accident that it may possibly bring.
Here are the common problems with TPO Roofing so you'll be able to spot the area to repair easily:
Membrane can easily be punctured
Reduced adhesive strength over time
Old age-related problem
Installation Errors Repairs
Now, let's learn how to repair the TPO Roofing System. Check out this list to help you deal with your present struggle with TPO Roofing System. For large-scale repairs, it is best to hire a professional to do the job for you. They go beyond patching; they restore your roof into a good condition, ready for another 20-30 years journey.
1. Early Detection is a Big Help
Look for early signs of deterioration. Regular maintenance should be calendared consistently to check the status of your roof and secure the structure. This is the best way of maintaining and keeping up your roof in its best shape. Even TPO is well known for its long lasting service. It may need a periodic patching. Seek an expert because there are some problems that are not visible to our naked eyes.
2. Carefully Choose Roof Contractors
There are things that should be left to the professionals, and this is the time that you need one. Do a careful background research before hiring one. This will prevent further damage to your building. Look for a team that delivers impeccable roofing solutions in a timely manner.
They will use infrared detectors to spot the problematic areas
Parts that are completely damaged will be removed
They will power wash the entire roof
Make sure that the space is free from contaminants
Reinforce and strengthen the TPO seams
The entire roof will be coated with silicone
Trust them well, and they will illustrate waves of knowledge and deliver best practices. The workmanship and skill of the craftsman are of paramount importance for a successful repair project. If you found those qualities in your current contractor, they will leave your premises ideally crack free and well-bonded surfaces.
3. Preparation is a Time Tested Technique to Finish the Job
To do repair, specific preparation for operation is needed to guarantee the compatibility of the raw materials that will be introduced. A concerted effort from the very first day of the repair down to the sealing of the same is important in carrying a job well done.
4. Materials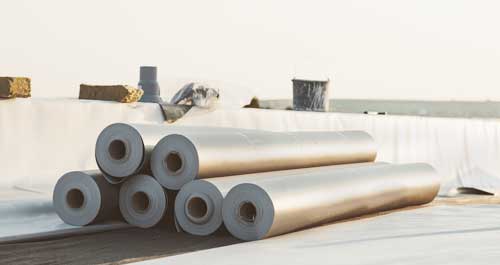 Materials should be of high quality, within their shelf life, and capable of being used to its intended purpose. Always bear in mind that using high standard materials is a smart move to save money and your precious time. There are numerous home depots to visit and make a comparison with the available resources in your place. Read some reviews before committing yourself to anything.
For small-scale repairs, patching up the damaged areas will do the work. To waterproof it, use a high quality and elastic cement. Typically, TPO's are heat weldable, and you need electricity to seal the deal. But if you don't have the needed tool, you need a telephone and call a roofer.
https://www.commercialflatroofs.ca/storage/2020/12/How-to-Fix-TPO-Roofing-Step-by-Step-Guide.jpg
365
700
kingdomrules
https://www.commercialflatroofs.ca/storage/2017/02/logo.png
kingdomrules
2020-12-30 03:41:00
2020-12-30 07:11:51
How to Fix TPO Roofing: Step by Step Guide