Basic PVC Roof Sheets Cutting
Choosing a roofing material is a bit tough. You need to consider a lot of things that will best fit your building plan. Careful planning and the right amount of preparation will ensure the successful implementation of your project. Whatever it is that you have in mind, pros, and cons for each choice can make them right or wrong for your roofing job. Some will appear well-matched, but in the long run, it can ruin your plan worst is that it can be dangerous to your structure.
Think things through and seek for professional advice. Do not hesitate to have a serious talk with your trusted roofer. They have been on the job for sure long year, which makes them a reliable source for your roofing system. There are many choices out there for you, and that makes it harder. Boost your brain with knowledge and savvy information that you can get right away. Internet is your best guide to search for contractors down to loads of information you can get on the internet just so you can get it done by yourself, but only to the small stuff.
Listen very carefully because confusion will set in once you start, and you do not have the proper information that you need. Things can go wrong in a wink of an eye. We want to get you away from future disasters and incur a financial loss along the way. That is why we will take the initiative to enlighten you with this bouquet of tips and procedures. Let us go through it and learn the "basic PVC roof sheets cutting." But before anything else, it will be better to have an idea what is PVC roof sheet. Check out a short description below of the same.
One of those choices you have for your roofing is PVC sheet, and that is what we are going to talk about right now. We are going to share with you interesting easy to do procedures for cutting PVC roofing sheets. We are going to make your life easy. After reading this, surely you will know how to do it yourself.
What is PVC or Vinyl Roof Membrane?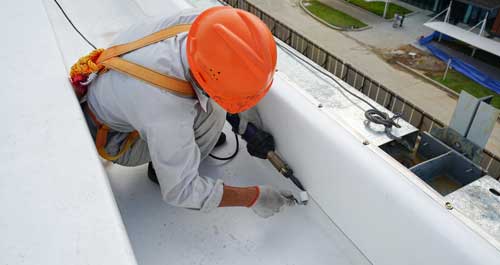 PVC (Polyvinyl chloride), also known as vinyl roof membrane, is commonly used in commercial buildings. It is a transparent single-ply roofing solution. It is popular for its lightweight feature as it can last for around 40 years. Moreover, it is durable and recyclable, which means less plastic will end up as trash. That's a favor to the Mother Earth. A handy repair kit will be a handy friend to be around to mend small tears. And maybe you happened to watched videos for a "Do-It-Yourself" greenhouse, and it uses PVC as coverings.
How to Cut PVC or Vinyl Roof Membrane
We will enumerate first the thing you need before diving into hassle and start cutting the PVC. Here are the common tools that you need. Professional roofers should be equipped all the time when doing a well-done roofing job. Whether you are a professional or you are doing a small task, a good set of tools will get the job done in half. The following is the list to check-in.
Circular Saw, Saber saw or Multi-Cutting Saw
Measuring Tool
Marker
Straight Edge Ruler
Workbench
Safety Gloves
If you have these common tools, you are ready to start the cutting job. Make sure that all of the necessary tools you need are in great shape and ready to take on the job, even those complex ones. It is quite problematic if, in the middle of your activity, you will be interrupted just because one of your tools is not properly working. It will eat a lot of your time.
Take as well with you all the precaution measures to avoid any accidents while working. Risk is just around the corner, waiting to strike if you are not careful enough. Always wear your working gloves to protect your hands, especially when you are handling any cutting tools. Get the best goggles for your eye's safety. Dust will be all over for sure. It will come in handy to see fully what is happening when the saw meets the PVC roof sheet. Follow this procedure for cutting PVC or Vinyl Roof Membrane.
Take the measurements of the area that you will be working on
Recheck everything because once cut, there is no turning back.
Layout the lines that need cutting by marking them properly using a pen or pencil
Put the PVC sheet on your workbench and secure it well to avoid it from unsteadily moving from side to side. Once you start cutting, it will wobble, that the cutting process can get way out of hand
Set your cutting tools into the right full depth
Cut the PVC carefully with your cutting tool
After, check the edges of the PVC if there are chippings
Make sure to put back your cutting tool in a safe or proper place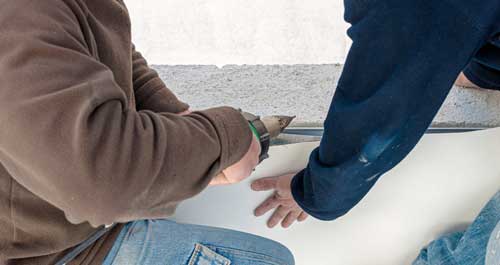 Sounds easy, right? Nothing can be done if your mind is set to the right tune of making anything possible, however difficult the task may seem. Actually, it is accurately easy if you know what to do and you are well prepared. It usually takes about 10-15 minutes to do the job depending on how complex the shape you want to cut. For a complex job or larger project, we suggest you need to contact a professional roofer to do the job for you. They will surely deliver spotless roofing jobs for your industrial or commercial structure. At the same time, it will shy you away from the stressful processes. But for a small task no need to be afraid. You can get things right, even for the first time.
Just follow the above procedures and do not forget to read the manufacturer's safety guidelines. This "basic PVC roof sheets cutting" will save you time to easily learn how to do the job correctly. Now you are off to start your roofing job. Get into action and religiously apply the things that you have learned today.
https://www.commercialflatroofs.ca/storage/2020/12/Basic-PVC-Roof-Sheets-Cutting.jpg
365
700
kingdomrules
https://www.commercialflatroofs.ca/storage/2017/02/logo.png
kingdomrules
2020-12-30 05:12:16
2020-12-30 07:10:15
Basic PVC Roof Sheets Cutting